We are proud to announce that we have successfully installed the first HERACLES neo electronic nose, an ultra-fast gas chromatography system with an embedded odor concentrator, at the Department of Chemical Analysis of the Ministry of Development and Investments, Greece.
The overall project aims to support the Department's laboratory, which is officially recognized by the International Olive Council (IOC), in the assessment of the organoleptic properties of virgin olive oil varieties and in particular with the establishment of P.D.O. (Protected Designation of Origin) products.
To be more specific, the installation will facilitate the analysis and characterization of volatile compounds present in virgin olive oil samples and comparison of the results with organoleptic profiles provided by the highly trained sensory panel of the laboratory.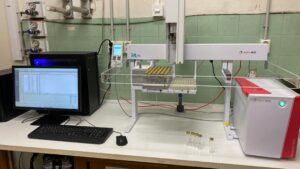 The lab team will develop a specific methodology for testing and establishing the correlation coefficient between the organoleptic profiles and the volatile substance matrix, as suggested by the AroChemBase database. The AroChemBase, designed by Alpha MOS, includes 144,759 known chemical components with their complete profiles, such as names and synonyms, chemical formula, CAS number, molar mass, retention indices, and more. Coupled with statistical analysis, the AroChemBase database offers a unique, fast and reliable interpretation of gas chromatography analysis results.                                                                                                                                                                                                                                                           
Besides the successful system installation, our company, The Science Support, with the support of our partners at AlphaMOS, delivered an advanced user training of the laboratory personnel. We would like to thank, Audrey Vongsalat and Perrine Desforges,  for their valuable support in this project!